RAW Preview, Road Dogg Advises Rookies, Candice Michelle Nose Surgery
|
What To Expect On Tonight's RAW
Tonight's episode of WWE RAW is live from the Dunkin' Donuts Center in Providence, Rhode Island.
Matches and segments confirmed so far include Daniel Bryan and Bray Wyatt vs. The Usos, and Randy Orton confronting The Authority. Lilian Garcia also noted on Twitter that she is replacing Justin Roberts tonight as ring announcer.
WWE.com are hyping the following 5 points:
– What will unfold when Bray Wyatt takes The Beard under his wing tonight?
– The Viper vows to give The Authority a piece of his mind.
– Who will make the next move out of Big Show and Brock Lesnar?
– How will the Shield solidify their unity?
– Get ready to Rumble! Who will be announced next for the 30 man match?
Road Dogg Warns Rookies Not To Party
In a recent interview with the Miami Herald Road Dogg warned rookies not to party too hard:
"I tell them to not party too much, especially nowadays. You know, back when I was living life crazy, cell phones were just coming out. Now everybody has got one and is filming you. When you are on top of the world, there ain't nowhere to go but down. So I tell them to keep their head on their shoulders. I say if they want to live a long life and be prosperous and reap what they sow and live off the rewards, then they have to keep a good head on their shoulders and be smart about it. It's not just a party. This is a career. I wish I would have looked at it as such 15-20 years ago, but I'm looking at it that way now. That's what I tell them, and I ain't afraid to tell them. Don't party too hard and think about this as your career. This is your job."
He also discussed WWE's refocus on tag team wrestling:
"The credit goes to the stars themselves for sure. I think it can also be attributed to the fact we focus a little more on the tag division. We have spent a little more energy and time in developing the tag team division. I think it was sorely missed when there weren't prominent tag teams on the landscape. I think it's been really appreciated now that their back. We got a lot of great teams that have stepped up in the last year and think will continue to step up this year. I think there are many things it can be attributed to, but just the fact that it's thriving and successful is awesome, especially for me to watch, because I was a tag team wrestler and love tag team wrestling."
Pic of Candice Michelle's Nose Surgery
Former WWE Diva Candice Michelle Tweeted a photo of her recent nose surgery to correct an old in-ring injury:
"4 days in,compliments of @nosedr90210 I could breathe better the day I left surgery…."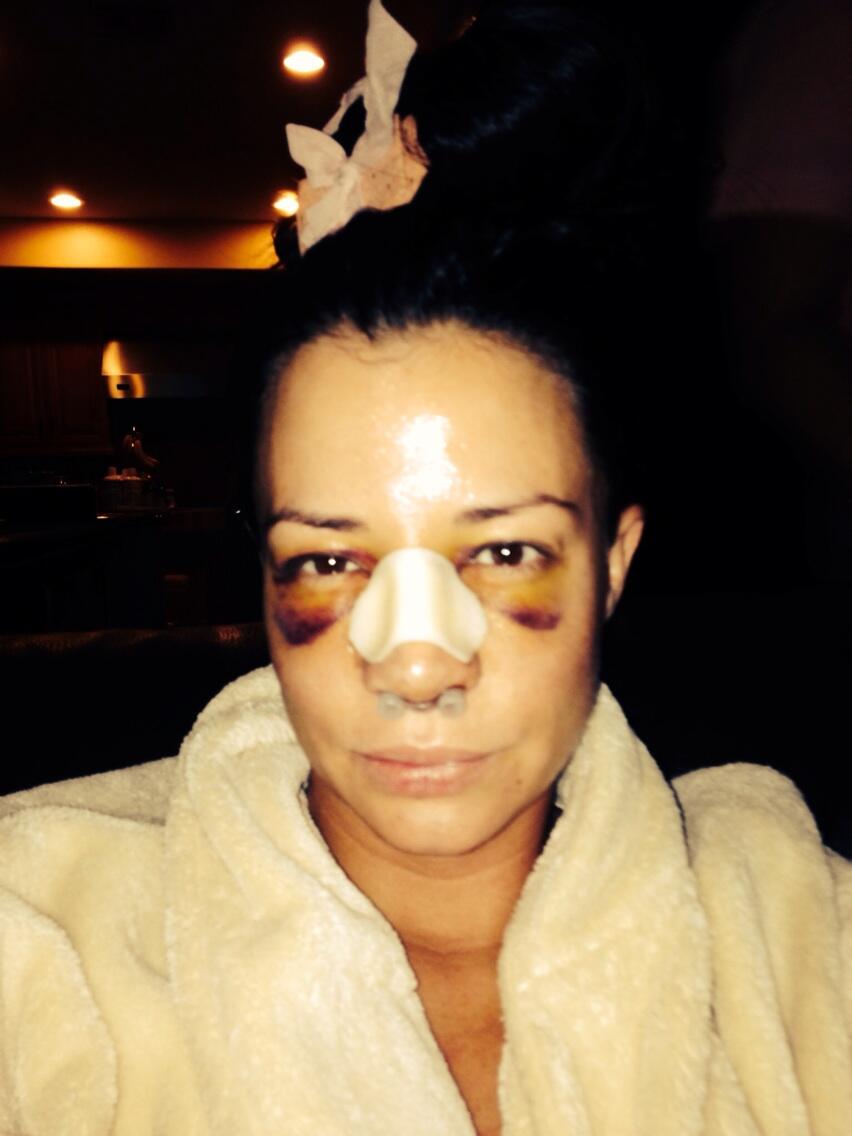 Home | WWE Blog
Tweet
RSS
Facebook
Twitter
Youtube