New WWE Ultimate Warrior DVD, Wrestlemania 31 Details, RAW Rating
|
Ultimate Warrior Getting New WWE DVD
In a further sign that WWE's relationship with the Ultimate Warrior is on the mend, WWEDVDNews.com has revealed that the company plans to release a new DVD and Blu-ray set of his greatest moments and matches in 2014.
WWE's last Ultimate Warrior DVD "The Self Destruction" released in 2005, showed him in a very negative light.
Related: Warrior Meets With McMahon: Is It Time To Come Home?
WWE Announces Wrestlemania 31 Location and Theme
Yesterday afternoon WWE held a press conference from Santa Clara, California, announcing that Wrestlemania 31 in 2015, will take place at Levi's Stadium.
Vince McMahon pushed the event as the most interactive WrestleMania ever, and the official graphic features a video play button, as well as the WWE Network W logo, which suggests they may be planning for it to be part of the network subscription.
The official Twitter of the San Francisco 49ers tweeted a mock image of the set:
"#LevisStadium will host @WWE's #WrestleMania31 on March 29, 2015."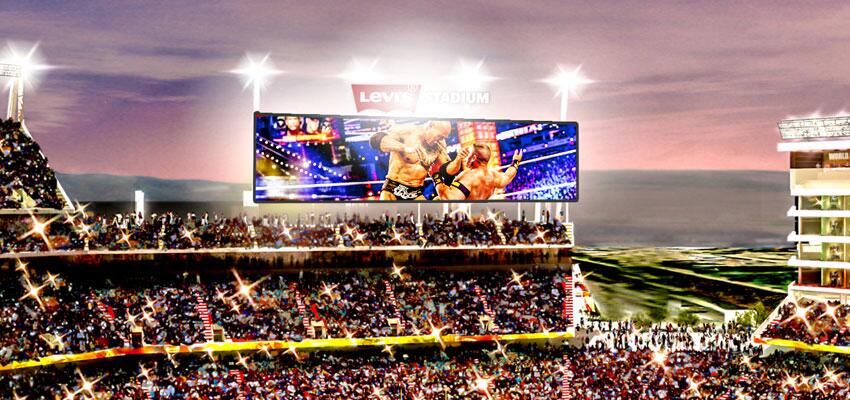 The WWE Yotuube channel has posted a number of videos from the conference which you can watch below:
Slammys Boost RAW Rating
This week's Slammy Awards episode of WWE RAW on the USA Network, drew an average audience of 4.159 million viewers, up big from the previous week's 3.541 million number.
Home | WWE Blog
Tweet
RSS
Facebook
Twitter
Youtube