Kurt Angle Injured? Prince Devitt Backstage, Gail Kim Talks WWE Departure
|
Kurt Angle Banged Up On UK Tour
Live fan reports from the UK tour suggest Kurt Angle is working through a lot of pain right now and won't be exerting himself. This may have something to do with his recent Moonsault off the cage. Talking with Wrestling101.com he said:
When you are climbing the cage you are praying and when you get to the top you don't think you just go, you are praying on the way down you don't get hurt, you land and you feel like you have everything intact, you are like thank you lord, time to move on.

A lot of people ask me what do I think when I get up there, when you think that is when you get hurt, you can't think you just have to go, that is why I don't stay up there very long. I saw Jeff Hardy get up there once, stood, looked over at Dixie Carter did some hand gesture and I was thinking he was going to get hurt, he is stood up there and he is thinking now. I can't do that, I don't even look at the fans, Jeff might be braver than I am.

We land on plywood and everybody thinks it's a soft surface, there is nothing soft about it, you can hear it when we land, it's a hard bump to take. I don't plan on ever doing it again, of course I said that before so I can't promise you anything.
During the interview he also discussed all the recent TNA departures:
It's tough, even Hulk Hogan was a tough loss to accept. Sting has been the cornerstone of the company, Jarrett founded the company and I think he might be the best heel in the business, and AJ is just the best athlete I've ever been in the ring with.

From three different perspectives it is a tough pill to swallow because they are three of the best. When you don't have them in the company you hope to god that the young talent steps up, guys like Bobby Roode, Austin Aries, and James Storm seem to be stepping up.

Will they replace Sting? You can't replace Sting, will they replace AJ? Probably not, AJ is irreplaceable, but will they become their own characters and do really well, yes they will do phenomenally well and it's not about replacing anymore, it's about making new stars.
New Japan Star At TNA UK Tour
New Japan Pro Wrestling star Prince Devitt was backstage at the TNA event in Dublin, Ireland, though it doesn't necessarily mean anything since he's Irish. In fact it's believed he's close to joining WWE after a recent tryout.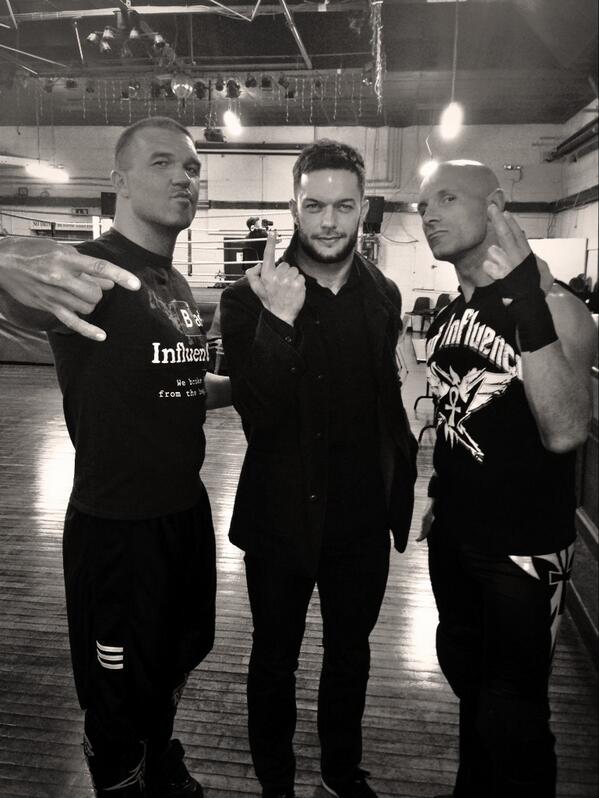 Gail Kim Interview Highlights
In a recent interview with Peter Rosenberg, Gail Kim discussed why she left WWE to return to TNA:
Some fans were like 'yeah, good for you!' others were like 'oh, she is so unprofessional!". I'm going to be honest. I don't regret it at all. Here is what happened. I had already decided to quit already for a little while. I had planned to quit the day they started the thing with Daniel Bryan and the twins caught us making out and all of that stuff. I walked in to work that day and I talked to my husband, he wasn't my husband at the time but all of a sudden i go in and they have this storyline for me. so i decided to go with the flow.

The network apparently didn't like the storyline of twins fighting over Bryan so they had to make a change. They decided that he needed a secret girlfriend in order to break the story. I was the third choice. Bryan told me. He first pitched Sara Del Ray and Kong as his girlfriend. They went with me because I was already on the roster. We did that story. That lasted about two months. At the end we did a great cat fight with the twins. We went hard and one of them grabbed me and threw me against a wall and i literally dented the wall. My head imprint was on the wall. They loved it so much that we did another two or three of these cat fights One on pay per view too.

Then I got phased out for no reason again. I went to Johnny Ace to ask him what was going on. I asked him, is it because I'm Asian or something. I brought up just about everything. He said 'We love people of all ethnicity here. What else can we do for you? Do you want to train girls down at FCW?' I said no, i don't want to train girls at FCW right now. A few months later it came to that day. I was so frustrated by that point. I was done. Maryse was supposed to eliminate me that night. She had some kind of knee injury and really couldn't do much. They just told me and Natty to 'just do whatever'. So i hit Alicia Fox and told her to sell. As soon as she sold, I rolled out. Because I know that my elimination meant nothing to the battle royale, I did that. Jr said he sort of noticed and one or two agents noticed but nobody else noticed. When I got to the back, they didn't even care. When I told Jonny that I quit I told him, 'You guys don't even care about the women. I just rolled out of the battle royal and nobody noticed.'. He just laughed.
Home | TNA Blog
Tweet
RSS
Facebook
Twitter
Youtube