Jake HOF Inductor Confirmed, Tonight's NXT Set, Batista Rips Fans, Hulk On Fox
|
DDP Confirmed To Induct Jake Roberts
DDP who is bringing his Yoga class to Wrestlemania weekend, confirmed in a press release today that he'll be the one inducting Jake Roberts in to this year's WWE Hall of Fame Class.
ATLANTA, Feb. 27, 2014 — /PRNewswire/ — There will be plenty of action outside the ring this spring at WWE's Wrestlemania- thanks to 3-time WCW Professional Wrestling Champion Diamond Dallas Page. Page will be bringing his revolutionary fitness system DDP YOGA to New Orleans April 4th and 5th, to coincide with the biggest weekend in wrestling.

Page will be hosting his intensive DDP YOGA workshops at the Holiday Inn New Orleans Westbank, where attendees will learn how they can tap into the power of dynamic resistance and take control of their health – and their lives.

As a former pro wrestling superstar, Page has reinvented himself as a maverick fitness guru, with the creation of his own workout system that combines dynamic resistance, flexibility, and cardio. DDP YOGA has become hugely popular among current and past athletes, as well as regular people who are seeking to overhaul their health and fitness with a low-impact but amazingly effective calorie-blasting, muscle-building workout.

WWE Wrestlemania will be a particularly poignant weekend for Page, as he will also be making a special appearance in support of his friend and fellow wrestling star/ former mentor, Jake "The Snake" Roberts. Roberts will be inducted into the WWE Hall of Fame on April 5 and Page will introduce Roberts, who has become one of the most inspiring DDP YOGA success stories to date.

Over the past year, Page has revitalized Roberts' health and rescued him from the throes of addiction, helping Roberts resurrect his career and reclaim his life through DDP YOGA. With intensive coaching and round-the-clock care, Roberts – who been living with Page – has maintained sobriety and is now in the best shape of his life.

Roberts has said that if he could regain his health through DDP YOGA, anyone can: the program empowers people at any fitness level to take charge of their health and take control of their lives through fitness. At the DDP YOGA workshops, Page will share the inspiring story behind DDP YOGA, the secret of dynamic resistance, active breathing techniques, correct alignment, and a special Q&A on Owning Your Life. There will also be a raffle drawing for DDP YOGA prizes.

The New Orleans workshops will take place Friday (April 4th) 5:00pm-8:00pm and Saturday (April 5th) 11:00am-2:00pm. Entry fee for each 3-hour session is $99.99 and both are open to all levels. Hotel guests at the Holiday Inn New Orleans Westbank will receive 10% off entry fee and 10% off their purchase of the Max Pack DVD set.

Space is limited, so attendees should register for the DDP Workshops early at: http://www.ddpyogaworkshops.com/events/holiday-inn-new-orleans-westbank-hosts-ddp-yoga-wrestlemania-workshop-with-ddp/
NXT Arrival Pre-Show Set
Stephanie McMahon Tweeted a photo of the outdoor set for tonight's live NXT Arrival PPV on the WWE Network.
"@TripleH looking at the #NXTArRIVAL Pre-Show set with Geoff Layne. LIVE on the #WWENetwork at 730 PM EST!"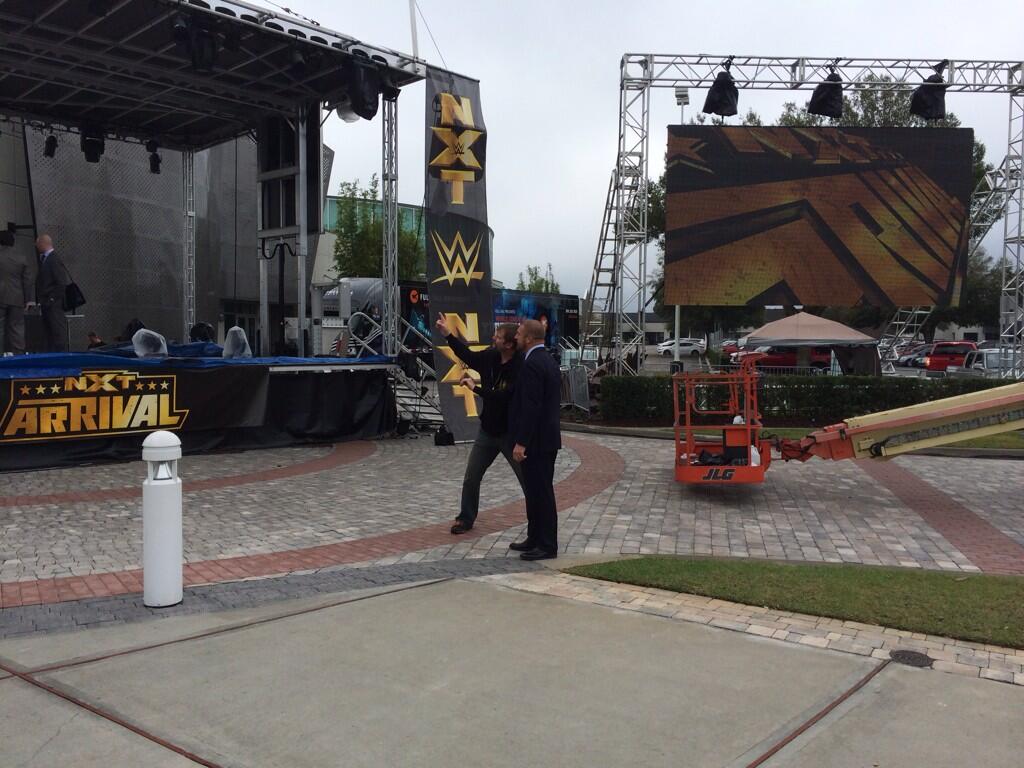 Renee Young will be hosting the panel, which includes Bret Hart, Kevin Nash and Paul Heyman.
Batista Posts Another Angry Tweet At Fans
Batista posted another angry Tweet to fans for their negative reaction. It's not clear whether he's legitimately ticked off or just playing it up:
Amazing how people can turn their failures as human beings into hatred of people making the most of life. #losers F em!! #dreamchaser… I don't mind the boos. Just a shame people can't seperate rumors and gossip from the shows. Kinda takes the fun out of it.
Watch Hulk and Jimmy Hart On Fox
Hulk Hogan continues to do the media rounds promoting Wrestlemania and the WWE Network. Today he appeared on MyFOXNY with Jimmy Hart. Shame he couldn't do this for TNA.
Home | WWE Blog
Tweet
RSS
Facebook
Twitter
Youtube