Hulk On Warrior's Induction, Titus Gets new Role? Flair Meets Dana White, Main Event
|
Hulk Hogan Happy For Ultimate Warrior
TMZ recently caught up with Hulk Hogan and asked him about Ultimate Warrior's induction in to this year's WWE Hall of Fame. The Hulkster said their war is over and seemed happy about the news:
Speaking of Warrior he cracked a joke about his induction speech on Twitter:
"First one to try to limit #WWEHOF speech to 140 anything – characters/words/pages//minutes/hours – gets clothesline."
In other Hogan news he revealed on Twitter that he's filming a Super Bowl commercial:
"Shooting a really cool Superbowl commercial today!! Brother HH."
Titus O'Neil Working On WWE Network?
Titus O'Neil hinted on a Tweet that he may have a new role on the WWE Network:
"Just received some AWESOME News about our New @WWENetwork which launches in just 40Days!! More Ways 4Me 2get into the mix..IM DOWN FOR THAT!"
Ric Flair Meets UFC President
Hall of Famer Ric Flair was snapped meeting UFC President Dana White at the fights in in Georgia: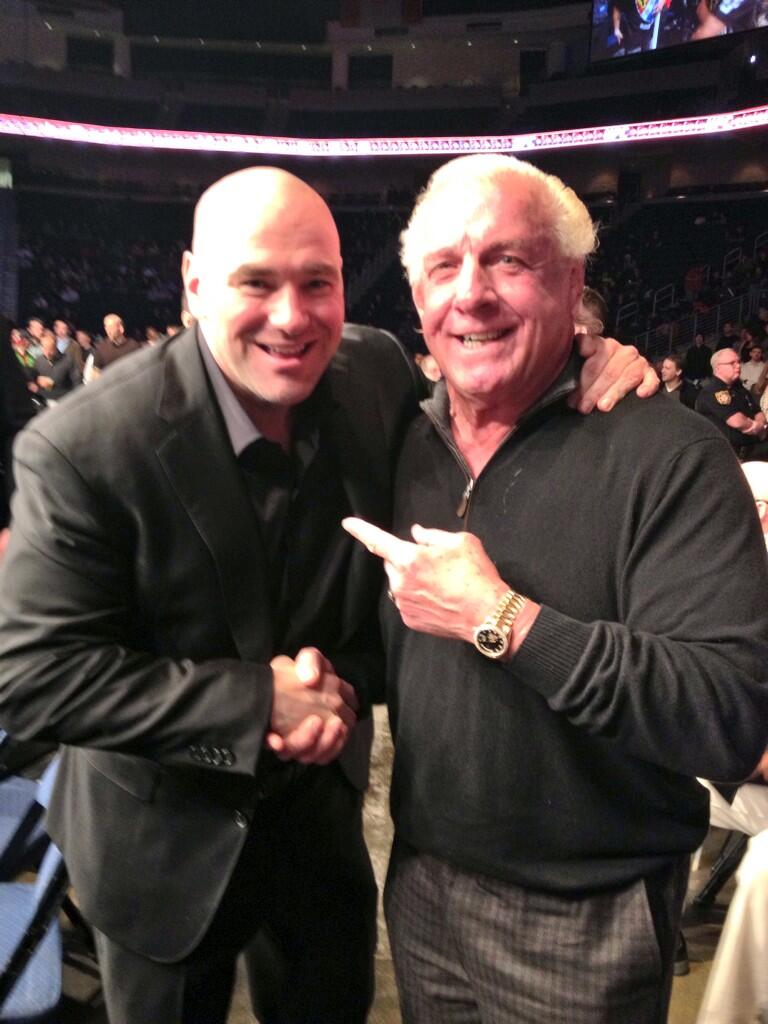 January 15, 2014, WWE Main Event Results
Here's what went down on this week's WWE Main Event:
– Ryback hogged the show by marching around between the matches.
– Kofi Kingston def. Curtis Axel, with a roll-up.
– Damien Sandow def. Sin Cara, with "You're Welcome".
– Bad News Barrett announced his participation in the Royal Rumble match.
– The Prime Time Players def. 3MB (3-on-2 Handicap Match), when Young rolled up McIntyre.
– When they demanded a restart, Brad Maddox sent out Los Matadores, who beat them in a 6-man tag.
Home | WWE Blog
Tweet
RSS
Facebook
Twitter
Youtube