Foley On Shield Breaking Up, Bryan's New Look, JR Wants Angle In WWE, Booker T's Next Book
|
Mick Foley Discusses The Shield Breakup Storyline
In a recent Facebook blog Mick Foley gave his opinion on the Shield breaking up:
"I don't know if there's going to be a true split between the SHIELD. or if the weeks long rift is going to turn out to be a false alarm. I think there has to be an eventual parting of the ways, if only because it's been obvious from the start that all three members – Rollins, Reigns and Ambrose had promising singles careers ahead of them. But if/when that split happens, the WWE Universe will be ready for it.

In a business where things seem to move at warp speed, where we sometimes are in such a hurry to turn out a product that we forget to take our time with it, storylines can often jump onto our screens on our screen like a quick, microwaved meal – they gets the job done, but without any real passion in the craftsmanship, and ultimately, completey unmemorable. But WWE has taken the time to put the right spices into this angle, and when it emerges from the oven, it's going to fully seasoned, and baked with that old world cratsmanship – something we can all savor for a while."
Speaking of the Shield Dean Ambrose told the Fairfax Times that his faction is "the backbone of the company".
"We go out there every night and show off the work ethic that rubs off on everybody we work with. We go out there every night to have the best national show — whether it's one or two matches, you got to work twice or whatever it is — we never take a night off."
Daniel Bryan's Wyatt Makeover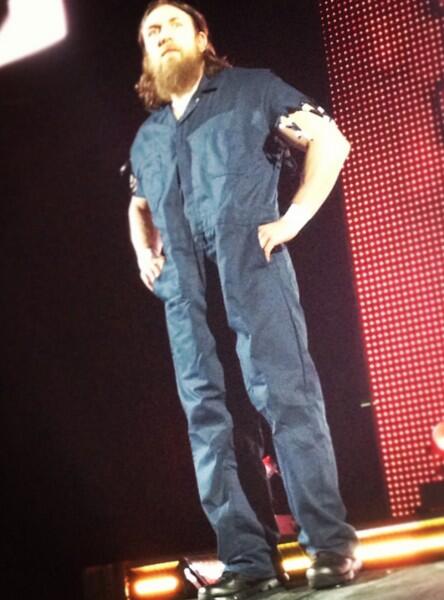 Now that he's joined the Wyatts, Daniel Bryan is wearing a gray jumpsuit with black boots. Both Jim Ross and Mick Foley gave their opinions on the storyline over the weekend.
Ross wrote on JRSBARBQ.com:
"Getting lots of chatter from a variety of 'experts' who have the Daniel Bryan/Wyatt Family storyline all figured out with many condemning it while others are intrigued with it. I am in a 'wait and see' mode and prefer to allow it to play out and see where it goes."
Foley wrote the following on his Facebook:
"Personally, I see the WWE World heavyweight Championship in Daniel Bryan's future. But in the meantime, he has a chance to do something almost as important and prestigious; he has a chance to help MAKE somebody.

Last month, I mentioned that Bray Wyatt (yeah, I know I called him Way Bryatt on the TLC PPV) had that "IT" thing – those tricky two letters that can spell the difference betweeen a talented performer and a star, between an asset to the company and a main eventer. But even a peformer with that "IT" factor needs something else to get them there – a bridge of sorts to get lead them on that next step of the journey. Every performer in our business needs that intense personal issue, that rivalry, that FEUD that truly puts them on the main event map.

I was lucky enough to have had those feuds at the right times along the way. I was lucky wnough to have had those feuds when I needed them – with Sting in 1991, and with The Undertaker in 1996 – the right opponents at the right time to put me on the main event map. I like to think that I was that right person at the right time for a few people over the years. It's an honor I take great pride in."
Should Angle End Career In WWE?
Jim Ross also discussed the possibility of Kurt Angle returning to WWE in his blog:
"Because I was asked on Twitter, etc I'd love to see Kurt Angle finish out his career in WWE with a select number of high level matches and a Hall of Fame Induction. That could be another high level attraction at WM31."
As previously reported Kurt Angle's TNA deal expires in the Summer and as we've seen with Hulk Hogan, AJ Styles and many others, we can't rule out that he'll leave.
Booker T Working On Wrestling Autobiography
Whereas his previous book focussed on his tough childhood, Booker T is currently working on an autobiography about his wrestling career. "Booker T: My Rise to Wrestling Royalty," will be released on 8/12/14, and is co-written by Andrew Wright:
"Booker T. Huffman, 2013 WWE Hall of Famer and winner of thirty-five championship titles within WWE, WCW, and TNA, has once again paired up with best-selling coauthor Andrew William Wright to uncover Booker T's story from his humble pro wrestling beginnings to becoming a global superstar and icon. Booker T: My Rise To Wrestling Royalty is Huffman's highly anticipated follow-up to the 2012 award-winning Booker T: From Prison To Promise, in which Booker detailed his turbulent coming-of-age on the streets of Houston, Texas.

Revisit two hard-hitting decades with Booker T as he journeys through World Championship Wrestling (WCW) and World Wrestling Entertainment (WWE). During this time he blazed a trail of pro wrestling success on a road that took him from his tag team days in Harlem Heat, with brother Stevie Ray (Lash), to his unparalleled singles career that drew millions around the world to WCW's Monday Nitro, and onward through his unforgettable matches that led to his taking the throne as King Booker and becoming the FIVE-TIME, FIVE-TIME, FIVE-TIME, FIVE-TIME, FIVE-TIME (and eventually six-time) world heavyweight champion."
Home | WWE Blog
Tweet
RSS
Facebook
Twitter
Youtube