"WWE World Heavyweight Champion" Crowned, AJ Incident update
|
In a clean victory with no interference from The Authority, Randy Orton defeated John Cena to be crowned the first ever "WWE World Heavyweight Champion" in the main event of TLC. In the closing moments Orton handcuffed Cena to the ring rope, Cena unscrewed the rope and ascended the ladder nearly getting the belts, but Orton used the rope to pull Cena head first in to a table. Orton then unhooked the titles and was congratulated by Triple H, Stephanie, and Vince McMahon.
"Congratulations to @RandyOrton the #ChampionOfChampions and New WWE World Heavyweight Champion," wrote Triple H on Twitter.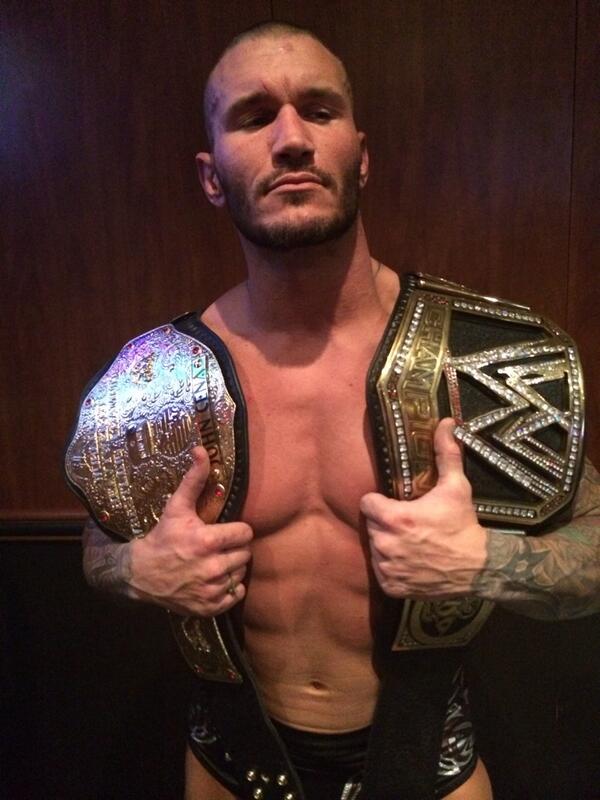 WWE TLC 2013 Results
– Fandango def. Dolph Ziggler with a Top Rope Legdrop (Kick-off Show).
– CM Punk def. The Shield, after Roman Reigns accidentally speared his team mate.
– AJ Lee (c) def. Natalya (Divas Championship Match).
– Big E Langston (c) def. Damien Sandow, with the Big Ending (Intercontinental Championship Match).
– Cody Rhodes & Goldust (c) def. Big Show & Rey Mysterio, The Real Americans and Ryback & Curtis Axel (WWE Tag Team Championship Fatal 4-Way Elimination Match).
– R-Truth def. Brodus Clay (Tensai and the Funkadactyls left Clay mid match).
– Kofi Kingston def. The Miz, with Trouble in Paradise (No Disqualification Match).
– The Wyatt Family def. Daniel Bryan, with the Sister Abigail (3-on-1 Handicap Match).
– WWE Champion Randy Orton def. World Heavyweight Champion John Cena to become WWE World Heavyweight Champion (Tables, Ladders and Chairs Match).
What Michelle Beadle Said To CM Punk
Though it's still not clear whether the AJ Lee incident with Access Hollywood host Michelle Beadle was AJ simply playing up her character at an inappropriate moment ("joke"), the celebrity has now revealed on Twitter her side of the story. Beadle has apparently known Punk for some time and when she met him at Tribute To The Troops she jokingly cussed him out, which either AJ misunderstood or used to get over her "crazy" character.
"I've known CM Punk for years. Considered him a friend. When I saw him at the arena, I said 'hey f&$?face'. The exact same way I talk to everyone. His girlfriend was no where near this. And I kept walking along with my assistant and two members of WWE PR. Next thing I know, I'm being yelled at. I honestly thought it was a joke. Period. The event went on and it was amazing. So I hope we can move on from this ridiculously lame 'story.' As for the crazies, BLOCKED! And Happy freaking Holidays!!!"
So is AJ legit crazy? Does she just want to make us think she's crazy? Or was somebody playing politics and failed to inform AJ that Beadle was just jokingly greeting her old friend?
Home | WWE Blog
Tweet
RSS
Facebook
Twitter
Youtube