Final Royal Rumble Card, Vince Tweets, Rollins Urinated Under Ring?
|
Live Royal Rumble Coverage Tonight
I will once again be joining the Suplah podcast team tonight as we watch the Royal Rumble live. Tune in on LiveStream during the PPV for some laid back (possibly drunken) banter!
Here is the final card for the event …
– Pre-show Kickoff Match:
WWE Tag Team Champions Cody Rhodes and Goldust vs. The New Age Outlaws (Title match).
– Daniel Bryan vs. Bray Wyatt.
– Brock Lesnar vs. Big Show.
– WWE World Heavyweight Champion Randy Orton vs. John Cena (Title match).
– 30-man Royal Rumble match, featuring the following stars and 10 surprise entrants:
CM Punk
Batista
Alberto Del Rio
Big E Langston
The Miz
R-Truth
Xavier Woods
Kofi Kingston
Cody Rhodes
Goldust
Rey Mysterio
Fandango
Roman Reigns
Seth Rollins
Dean Ambrose
Erick Rowan
Luke Harper
Damien Sandow
Jimmy Uso
Jey Uso
Speaking of the Rumble match, Vince McMahon posted a rare Tweet remembering the 1999 event:
"Anyone can win the #RoyalRumble."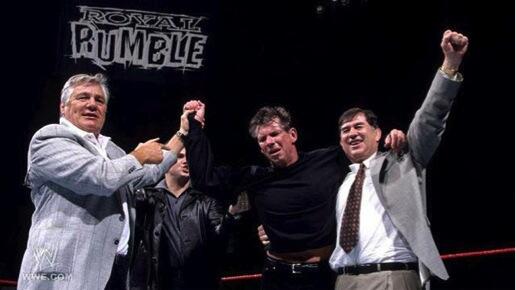 JR's Rumble Picks
Jim Ross posted some Rumble picks on JRSBARBQ.com:
– Still leaning on Batista, who I'm predicting will enter after #20, winning he Rumble which would set up a WWE World Title Bout vs. Randy Orton at WM30 as I see Orton winning Sunday in Pittsburgh vs John Cena with an obligatory helping of controversy.
– Don't see Lesnar losing to Big Show at the Rumble.It's feeling more and more like it could be a Lesnar vs. Undertaker showdown at WM30 in NOLA but all that could change with one major signing or via the use of the most powerful weapon in the business….an eraser.
– I'd love to see CM Punk go coast to coast while entering #1 in the Rumble match and win it all in Pitt but that's a legit, long shot. I could see Punk lasting a abnormally long length of time before being tossed over the top rop…perhaps by Batista himself or Punk could run a foul of the Shield again.
Seth Rollins Just Couldn't Hold It
In a recent interview with Talking With Soup Seth Rollins revealed that during a recent house show, he was so desperate for the toilet that he went in a bottle under the ring. He joked that this was the biggest mistake of his career:
Chris Benoit Files Episode 2
For those that missed it, here is the second episode of my Youtube series the Chris Benoit Files. I explore the conspiracy theory that Kevin Sullivan was responsible for the Benoit deaths and is a real Satanist. It's obviously not true, but interesting nonetheless:
Home | WWE Blog
Tweet
RSS
Facebook
Twitter
Youtube