CM Punk Backstage Politics, Lawler's Graduation Pic, Clay's Heel Turn
|
Trevor Murdoch Discusses Punk's Uphill Battle
Former WWE star Trevor Murdoch discussed the uphill battle CM Punk face when he first signed with WWE. "I'm not going to name any names but when Punk was in developmental there were a lot of people bagging on him," Murdoch told Under The Mat.
"They were like who is this guy? Tattooed up with a Pepsi symbol on his arm, what they thought was a Pepsi symbol on his arm and him being an internet sensation and indy sensation. They really couldn't see the big picture the connection that he has with the fans when he goes out there. How much hard work he puts in his craft and when he steps out that curtain how much hard work he puts out there."
Murdoch also discussed the rise of "Sports Entertainment":
"The wrestling end of it is changing daily it's not the sport that it was when I was younger following it. It's more towards the entertainment end of it and that's a machine you really can't stop unless the fans change that…and what I mean by fans is that they all have to get together and speak loud and clear and let them know that's what they want. Everything they (WWE) do on TV is based on what they do for viewership and it's up to us as fans to change that. I respect the WWE and all it has done for me."
Jerry Lawler's High School Graduation Photo
WWE Hall of Famer Jerry "The King" Lawler's high school graduation photo was Tweeted out earlier this week.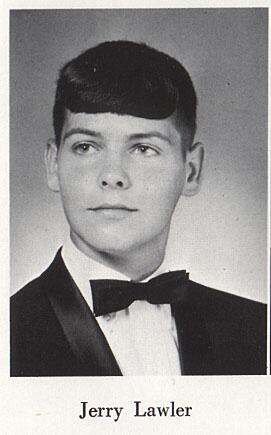 JR Discusses Brodus Clay's Heel Turn
Jim Ross discussed Brodus Clay's heel turn in his latest JRSBARBQ.com blog:
"Hope the Brodus Clay creative direction change works. Good guy, truly a fan of the business and who has the tools, or so I feel, to be a 'monster heel.' Brodus was one of my favorite guys to brainstorm with back in the FCW days."
Ross also discussed WWE's holiday schedule:
WWE doing a ton of TV this week in Texas so that many can have a few days off to celebrate the holidays. The work load for many within the company this week is hard to explain and one simply has to endure it to understand it.

Back in the day, if a talent wasn't booked on the annual, Christmas might event in one of the many territories around the country, said talent would think that their days in that territory were numbered. Everyone wanted to work Christmas night as it produced one of the biggest paydays of the year for all talents, especially the guys on top.

I can only image the outrage that talents and many in the wrestling media would have today if wrestling companies promoted live events on Christmas night.

Looking back years ago, I had a handful of talents who protested WWE running live events on Easter Sunday due to their alleged religious beliefs. I say alleged because those that bitched the loudest were NOT religious seemingly on any other day of the year but used the Easter Sunday holiday as an excuse to want to be unbooked. Likely, it they had merely asked to be off it would have been facilitated if at all possible. Some of those conversations were actually reality TV worthy.
Home | WWE Blog
Tweet
RSS
Facebook
Twitter
Youtube