Bryan Pins Orton On RAW, Punk Update, Reigns Injured, Funny Hogan Ad
|
February 03, 2014, WWE RAW Results
– WWE World Heavyweight Champion Randy Orton addressed his Elimination Chamber opponents, and continued to complain abut the Authority's treatment of him. For his insubordination the power couple decided he will face each of his opponents over the next two weeks, with the Daniel Bryan match taking place in the main event tonight.
– The Shield def. Intercontinental Champion Big E Langston, Rey Mysterio & Kofi Kingston, after Reigns hit the Superman Punch on Langston, and Ambrose tagged in to steal the pin. Bray Wyatt mocked the cracks in the team on the Titan Tron.
– Christian def. Jack Swagger, with a sunset flip.
– Cage Match: WWE Tag Team Champions The New Age Outlaws def. The Brotherhood, after Billy Gunn hit the Fameasser on Cody Rhodes.
– Titus O'Neil def. Zack Ryder, with a Clash of the Titus.
– Emma def. Summer Rae in a Dance-Off, after the two ladies hijacked the original contest between Santino and Fandango. Despite Rae's traditional skill, the crowd much preferred Emma's unorthodox moves.
– Sheamus def. Curtis Axel, with the Brogue Kick.
– Alberto Del Rio confronted Batista, before cheap-shotting him, but in the end Batista sent him packing.
– The Wyatt Family def. Dolph Ziggler, R-Truth & Xavier Woods, when Bray hit Sister Abigail on Ziggler. After the match The Shield delivered a message to the Wyatts.
– Naomi def. Aksana.
– Daniel Bryan def. WWE World Heavyweight Champion Randy Orton, despite Kane being at ringside. In the closing moments he hit the Suicide Dive on the corporate monster and then the Running Knee on Orton for the win.
After the match Kane and Orton teamed up to take out Bryan.
Injured Cena Makes Off Air Appearance
John Cena who was pulled from Sunday's house show in Kansas City due to an eye injury he suffered the previous night, made a surprise off air appearance at RAW after the main event. He came down to make the save for Bryan, hitting the Attitude Adjustment on both men.
Punk Signs Confiscated
CM Punk signs continued to be confiscated during RAW. One fan had one sign removed, and then revealed another saying "My Other CM Punk Sign Got Confiscated". Naturally this new sign was also taken away.
I still can't reconcile WWE's motives here. First off they haven't officially acknowledged or explained where CM Punk is. He is one of WWE's biggest stars, fans are naturally going to want to see him and support him. If anything trying to erase his presence will just make people more defiant. Will it really hurt the company that much if a few fans have signs at the show for a star that was on TV only a few weeks ago? What … is everybody just going to stop watching when they realize he's gone? It makes no sense. Leave them be and they'll burn themselves out.

Then again while they appear to be trying to erase him, they keep allowing (or directly scripting) talent to cut promos about him, riling them up even more. The Shield and Orton have already done this at house shows.

Is their real motive just to get more heat on the "The Authority", similar to the Daniel Bryan situation?
Speaking of Punk, like Bryan the White House website have removed a petition about CM Punk, for obviously having nothing to do with the US Government.
Roman Reigns Gets Stitches
Following last night's RAW Roman Reigns had to get stitches above his eye. He posted a picture on Twitter, calling it a "new battle scar":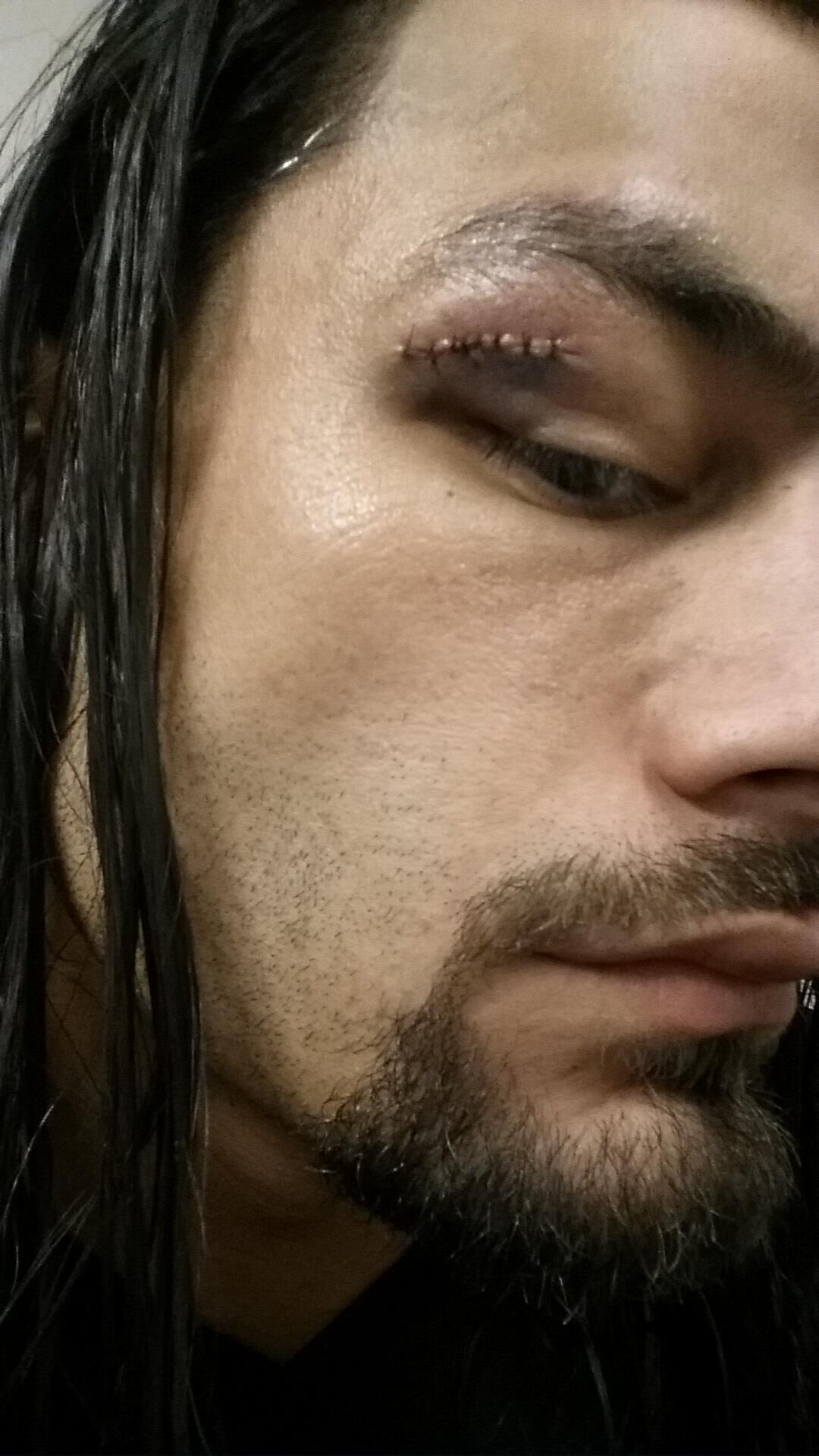 Hogan and Slaughter In Radio Shack Commercials
Wrestling legends Hulk Hogan and Sgt. Slaughter are featured in a new commercial for Radio Shack. Check it out below:
Hogan was also featured in their Super Bowl commercial:
Home | WWE Blog
Tweet
RSS
Facebook
Twitter
Youtube