Booker T Talks Racism, Photo of Austin Backstage, Jim Cornette Interview
|
Booker T Says Racism Was Never An Issue
In a recent interview with Philly.com Booker T said race was never an issue in his wrestling career:
Throughout my whole time in wrestling on the road, going out and being around some of the whitest people in the world I've never had any problems with anybody. It was never black or white. Booker T was just a wrestler. I did that by design.

When people see me come out of that curtain, it's never been a black guy. It's just been Booker T and I've always tried to make it that way.
[I think it's great that Booker T never experienced racism in his career, but to say his character never drew from racial stereotypes seems a bit of a stretch, though perhaps I'm just misunderstanding his point.]
Steve Austin Backstage At RAW
Steve Austin Tweeted the following photo of himself backstage at RAW with retired UFC fighter Stephan Bonnar. In the distant background you can also see RVD.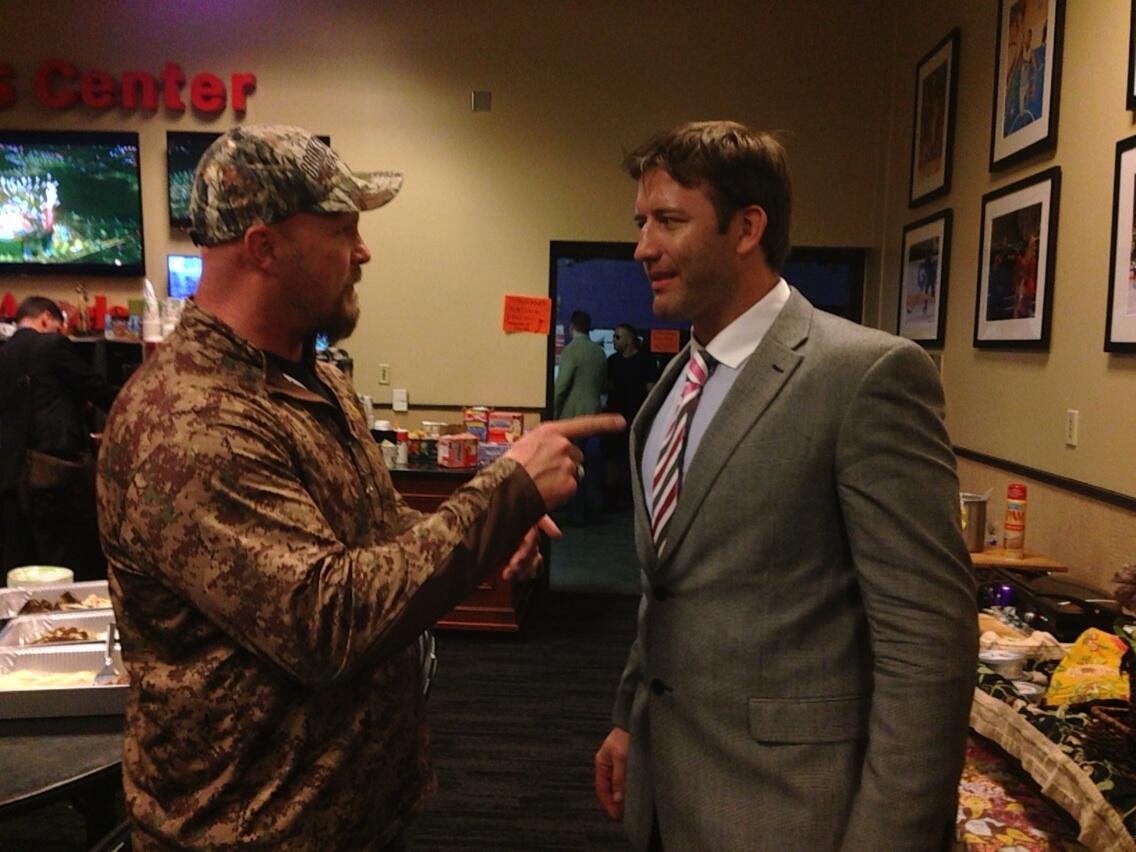 Austin was backstage to interview Zeb Colter for his podcast.
Jim Cornette Talks Lack of Managers
In a recent interview with Wrestling101.com Jim Cornette was asked about the lack of managers in today's wrestling:
It's just because basically the WWE decided to have the women accompany the guys to the ring and I remember saying to Paul Bearer once that to be a manager now we're going to need to wear bikini's. After the whole valet run had run its course they just didn't replace them with any guys.

If the WWE, the industry leader doesn't do it then nobody else is going to do it and really if you wanted to do it now where are the guys that are going to be good managers because nobody has been doing it for so long, nobody has been practicing.
Cornette also discussed his time in OVW when it was a WWE developmental territory:
In OVW here in Louisville between 1999 – 2005 we were the developmental territory for the WWE. A lot of guys came to OVW who weren't signed by the WWE but became signed by the WWE, because they came here to train and they got good and they ended up getting offered contracts.

John came from California, we got him really early on in his career but you could tell he was a natural, I thought he would actually be this generations version of a Ric Flair. He was a heel then, and he was so cocky, arrogant and good looking – he had the physique and the genetics, he could talk but they decided to go a different direction with him and he got over just as big on the other side.

Randy he is from four hours down the road from Louisville, from St. Louis, he is the son of Bob Orton Jr. and the grandson of Bob Orton, so he had it in his genes and he came out here and polished it.

With Brock I'll be honest with you, he was getting paid about four or five times more than everyone else in the developmental programme because of who he was. You don't come across an athletic specimen like that who won the NCAA Heavyweight Championship everyday. However he was not a natural wrestling fan, not a natural wrestling student, he was a bit boring in the ring to be honest because he wasn't used to being a showman. Also for a world class athlete I didn't think he was trying five times as hard as his salary.

I paired him up with Shelton Benjamin who was one of the most natural wrestling school students we ever had, picked up things instantly and was exciting, so I made them a tag team. Shelton would do all the work, he would tag Brock and Brock would make a comeback and throw everyone through the roof. When he hit the WWE he became instantly exciting, remember the shooting star press he did at WrestleMania, he would do that for us and I would tell him he was crazy and to save it for the big show at the Louisville Gardens when the WWE agents are there and not in the high school halls. He did it in front of the WWE agents and they signed him directly because of that, the time he did it at WrestleMania is the only time I've seen him miss it.
Home | WWE Blog
Tweet
RSS
Facebook
Twitter
Youtube